7:40AM
26th January  shine  Fair, later, occasionally cloudy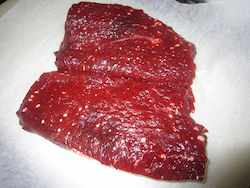 This is the whale meat.

"Kujira Tataki", that is whale meat chopped with a knife ready for sashimi.
It eats with ponzu sauce that puts ginger.
Ponzu sauce basically is soy sauce of various citrus juice.

Whale meat and muktuk is only occasionally seen in the Omi-cho Market.
I think about the menu by receiving the recommendation goods of the fish shop every day.
« Plum blossoms |Top|sweet treats of Hokkaido »
Comments:
Post a comment
Trackbacks:
http://kanazawashibayaeblog.blog126.fc2.com/tb.php/203-f60c1b5b