bubbling jets bath
One of the best things in this traditional Japanese inn is the bath in the basement.
A piping hot, ONSEN-like bathtub with bubbling jets that guests can reserve for private use.
There is also a small bath unit for private use on the 3rd floor.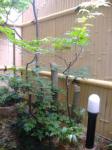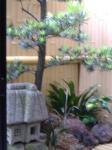 Private bath room
How to use bath
Please......
*Bring both bath towel and face towel with you from your room.
*Remember everybody has to be naked in the bath room.
*Bring only your face towel with you into the bath room.
*You are supposed to rinse or clean lightly your body before entering bath tab.
*Do not put your towel into the bath tab water.
*Do not use soap in the bath tub.
*Do not unplug the drain in the bath tub when getting out.
*Dry your body with the towel before you get out of the bath room.